Bander-in-charge: Marcel Gahbauer
Assistants: Shawn Craik, Kim Fernie, Gay Gruner, Marie-Anne Hudson, Betsy Mcfarlane
Notes: Though our first spring migrant (a single Horned Lark on Tuesday) arrived this week, it is still very much winter at MBO. The ponds remain fully frozen and the trails are blanketed in a good 30 cm of snow in most places. Accordingly, the dominant birds at the feeders remain Common Redpolls.
Banding on Tuesday produced more Black-capped Chickadees than anything else - 8 new birds, plus 7 repeats, and two returns that we had not seen since we banded them last May and October. This brings to well over 90 the number of individuals handled since the beginning of the winter season - far more than we would have expected to be using this area. Of course, not all are here at the same time, and the fairly large proportion of unbanded chickadees at recent banding sessions suggests that at least some of the individuals which moved south last fall en masse are beginning to trickle back north.
Also on Tuesday, our list of species observed this winter reached 50, with the addition of not only the aforementioned Horned Lark, but also a Peregrine Falcon streaking through the site. A couple of Red-winged Blackbirds on Friday were another welcome sign of spring, but no American Robins have been seen or heard yet.
A last-minute banding session on Saturday afternoon triggered by the beautiful weather yielded a Blue Jay - the first one we have banded this winter! A mixed flock of Common Redpolls, American Goldfinches, and Pine Siskins was hanging around most of the time, and we caught a few of each except for the siskins. Our last new bird of the day, a goldfinch, was our 300th bird banded this winter.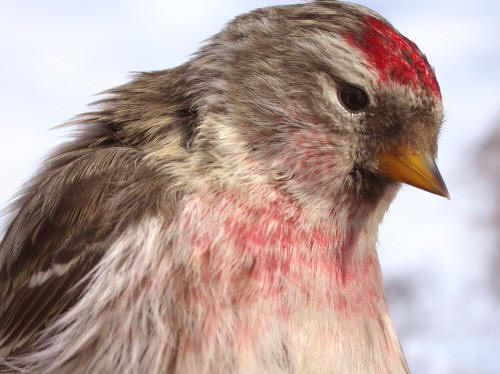 The Common Redpolls are one aspect of winter that we will miss, but for now at least
they are showing no signs yet of abandoning our feeders. (Photo by Marcel Gahbauer)