SPRING MIGRATION MONITORING PROGRAM
2005 Birdathon - Saturday May 14
The 2005 MBO Birdathon Team: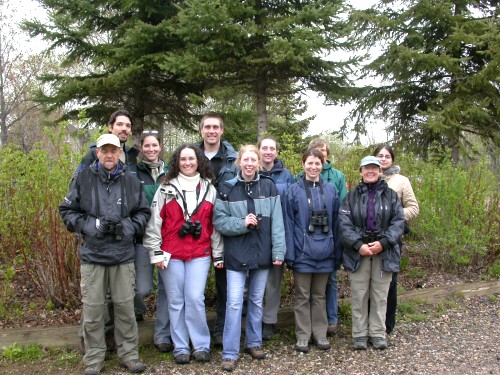 Back row (left to right): Marcel Gahbauer, Sarah Fraser, Shawn Craik,
Mélisa Brunet, Barbara MacDuff, Anthi Mimidakis
Front row (left to right): Jean Demers, Marie-Anne Hudson, Jennifer
Pearson, Crissy Ranellucci, Clémence Soulard
A hardy group of 11 MBO volunteers gathered at 5:30 am on Saturday May 14 for what we optimistically have called the first annual MBO Birdathon. After our first dose of really warm spring weather earlier in the week, the conditions for our chosen day were decidedly more dismal - light rain throughout the morning and early afternoon, then remaining cloudy for the rest of the day, with a steady temperature throughout of just 10 Celsius. No doubt this had some effect on bird activity, but we stuck to our original plans, and still had quite a good day despite the weather.
Naturally we began at MBO, walking the census route a bit earlier than usual. This yielded our first 34 species of the day. Highlights included MBO's first Veery, Blue-headed Vireo, and Northern Waterthrush of the year, bringing the season total to an even 100 species. Also of note were the 5 Solitary Sandpipers and the Pintail pair that has been hanging around in the back pond for the past week. However, we missed the local Chipping Sparrows, and were unable to find any elsewhere throughout the rest of the day!
Our next stop was Ile Bizard, which provided many of the day's highlights. Along the main boardwalk, we had both Virginia Rail and Sora visible only a few metres away from us. A bit further along, an American Bittern flew, and with diligent searching was subsequently found to be standing among the reeds not too far away, pretending to be invisible. Patient scanning also paid off in the woods, where a Barred Owl was perched on a large branch in the distance, and gave us our only owl record of the day. An Ovenbird and a Wood Thrush each singing from conspicuous perches were also highlights of our Ile Bizard visit.
With 82 species on the list already, we headed west toward St-Lazare. A quick scan of the sand pits there showed that it seemed to be an off day for the site, but we still were able to add Common Tern, Lesser Yellowlegs, and Palm Warbler to the list, along with the Eastern Meadowlark we saw along the road leading to the site.
The rain seemed to intensify as we reached Ste-Timothee, as did the wind. However, the hike along the dikes was well worthwhile. Black-crowned Night Heron and Great Egret nicely rounded out our day's heron list, while American Coot and Common Moorhen complemented the rails seen earlier at Ile Bizard. New waterfowl for the day at this site were Ring-necked Duck, American Wigeon, Redhead, Blue-winged Teal, and Gadwall. The Black Tern, one of the specialties of the site, was nowhere to be seen at first, but two individuals eventually did come into view.
Heading toward the St-Louis-de-Gonzague bridge, we spotted our first Killdeer of the day, along with a male Northern Harrier, to bring us to 97 species. After that though we entered the afternoon lull. For a few hours, it seemed that no matter where we went, bird life was minimal, and we were unable to add anything new to our list. Eventually we picked up Turkey Vulture and Savannah Sparrow from the road, as well as a Cooper's Hawk in hot pursuit of a Red-winged Blackbird, to crack the 100 species mark.
At that point we decided to stop in Huntingdon for a warm meal. As if to reward us, we had Chimney Swifts overhead as soon as we got out of our cars. A bit warmer and drier, we headed back out an hour later, to the forests along Gowan Road. The thrushes were in full song, and we were quickly able to add Swainson's to the list. Further along the road, we heard our first Least Flycatcher, and a distant Scarlet Tanager. A Northern Waterthrush with an unusual variant to its song had us exercising our imaginations for a while, but ultimately we remained stuck at 104.
The final stop was the Pitch Pine Ecological Preserve. The anticipated Eastern Towhees materialized in good numbers, but we had less luck with the other sparrows known to be in the area. A random stop by the side of the road allowed us to hear both American Woodcock and Wilson's Snipe winnowing overhead, taking us to 107 species. It was 8:45 pm and almost dark, but with the cold conditions we weren't optimistic about Whip-poor-will or Common Nighthawk calling, so after a long day we decided to head for home. One missed checkmark later, our grand total for the day was 108 species - not exceptional, but quite decent given the day's weather and the overall slow migration this year.
Sincere thanks to all who participated in the MBO Birdathon, both for sticking it out in the rain, and for collectively raising over $1500 for McGill Bird Observatory and Bird Studies Canada!
Species observed:
| | | | |
| --- | --- | --- | --- |
| Common Loon | American Coot | Blue Jay | Black-throat. Green Warb. |
| Pied-billed Grebe | Killdeer | American Crow | Blackburnian Warbler |
| Double-crested Cormorant | Lesser Yellowlegs | Tree Swallow | Palm Warbler |
| American Bittern | Solitary Sandpiper | Bank Swallow | Bay-breasted Warbler |
| Great Blue Heron | Spotted Sandpiper | Cliff Swallow | Black-and-white Warbler |
| Great Egret | Semipalmated Sandpiper | Barn Swallow | American Redstart |
| Green Heron | Wilson's Snipe | Black-capped Chickadee | Ovenbird |
| Black-crowned Night Heron | American Woodcock | Red-breasted Nuthatch | Northern Waterthrush |
| Turkey Vulture | Ring-billed Gull | White-breasted Nuthatch | Common Yellowthroat |
| Canada Goose | Common Tern | Brown Creeper | Scarlet Tanager |
| Wood Duck | Black Tern | House Wren | Eastern Towhee |
| Gadwall | Rock Pigeon | Marsh Wren | Savannah Sparrow |
| American Wigeon | Mourning Dove | Ruby-crowned Kinglet | Song Sparrow |
| Mallard | Barred Owl | Veery | Swamp Sparrow |
| Blue-winged Teal | Chimney Swift | Swainson's Thrush | White-throated Sparrow |
| Northern Shoveler | Belted Kingfisher | Wood Thrush | White-crowned Sparrow |
| Northern Pintail | Yellow-bellied Sapsucker | American Robin | Northern Cardinal |
| Redhead | Downy Woodpecker | Gray Catbird | Rose-breasted Grosbeak |
| Ring-necked Duck | Hairy Woodpecker | Brown Thrasher | Bobolink |
| Hooded Merganser | Northern Flicker | European Starling | Red-winged Blackbird |
| Northern Harrier | Pileated Woodpecker | Cedar Waxwing | Eastern Meadowlark |
| Cooper's Hawk | Least Flycatcher | Nashville Warbler | Rusty Blackbird |
| Sharp-shinned Hawk | Eastern Phoebe | Northern Parula | Common Grackle |
| Red-tailed Hawk | Great Crested Flycatcher | Yellow Warbler | Brown-headed Cowbird |
| Virginia Rail | Eastern Kingbird | Chestnut-sided Warbler | Baltimore Oriole |
| Sora | Blue-headed Vireo | Black-throated Blue Warbler | American Goldfinch |
| Common Moorhen | Red-eyed Vireo | Yellow-rumped Warbler | House Sparrow |
Scenes from Birdathon 2005: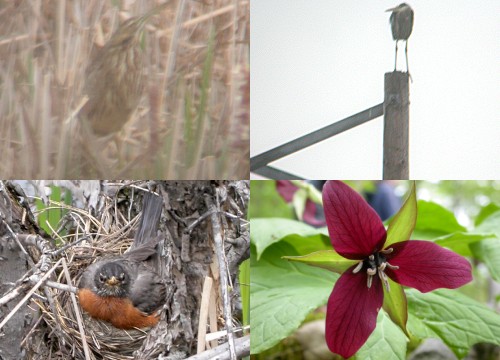 Top left: a distant view of the American Bittern at Ile Bizard trying in vain to hide
among the yet-to-grow reeds. Top right: a Great Blue Heron near the St-Louis-
de-Gonzague bridge, perched atop a utility pole. Bottom left: an American Robin
nesting along the path at Ile Bizard. Bottom right: a Red Trillium adding a splash of
colour to the gray and wet morning. (Photos by Marcel Gahbauer)