Week 11: October 10 - 16, 2010
Welcome to the McGill Bird Observatory weekly report. Click here for a complete listing of our archives.
Comments or questions are welcome at "mbo AT migrationresearch.org".
PICTURE OF THE WEEK:

Even before the last of the Yellow-rumped Warbler flocks moved on, MBO was invaded
by another unusually abundant species, this time Black-capped Chickadee.
(Photo by Marcel Gahbauer)
| | |
| --- | --- |
| | MBO gratefully acknowledges funding from the Support Grant and Research Committees of Bird Protection Quebec, enabling us to provide full coverage of the Northern Saw-whet Owl season for the first time. |
Special thanks to Patrick Blue (Operations Manager, Macdonald Campus of McGill University
Security Services) and Michel Saucier (Domo Security) for funding and installing a new
security system to protect the MBO cabin.
| | | | | |
| --- | --- | --- | --- | --- |
| | THIS WEEK | THIS FALL | 2010 TOTAL | SITE TOTAL |
| # birds (and species) banded | 635 (28) | 5797 (72) | 6672 (79) | 30181 (106) |
| # birds (and species) repeat | 103 (11) | 736 (40) | 950 (50) | 5291 (68) |
| # birds (and species) return | 1 (1) | 37 (18) | 169 (33) | 789 (37) |
| # species observed | 63 | 136 | 157 | 202 |
| # net hours | 430.0 | 5112.5 | 8671.4 | 48579.1 |
| # birds banded / 100 net hours | 147.7 | 113.4 | 76.9 | 62.1 |
Note: table does not include nocturnal banding (owls)
Bander-in-charge: Simon Duval, Marcel Gahbauer, Kristen Keyes
Assistants: Bob Barnhurst, Christine Barrie, Jeanne Beaudry-Pilotte, Christine Beaumier, André / Simon / Yves Bellemare, Matthias Bieber, Marianne Bolla, Jason Bueckert, Francis Cabana, Maryline Caponi, Megan Chan, Gary Clemence, Marc-Philippe Christophe, David Davey, Anna de Aguayo, Jean Demers, Amélie Drolet, Marianne Gagnon, Ruoxi Gao, Tiffany Gilchrist, Gay Gruner, Jeff Harrison, Nicolas Houde, Marie-France Julien, Pia Kaukoranta, Kristen Keyes, Le Duing Lang, Lance Laviolette, Meghan Laviolette, Camille LeGall-Payne, Kristen Lynn, Betsy McFarlane, Mahmoud Moghrabi, Chris Murphy, Dan Murphy, Geneviève Perreault, Lucile Pic, Roman Skorko, Clémence Soulard, Alex Stone, Patricia Stotland, Rodger Titman, Mieke van der Heyde
Notes: After three record busy weeks we were expecting things to get a bit quieter at MBO for week 11, especially since Yellow-rumped Warbler numbers were finally tapering off toward the end of week 10. Well, the chickadees had something else in mind for us! Over our first five fall seasons, we had a nice alternating pattern, with Yellow-rumped Warbler numbers peaking in "even" years and Black-capped Chickadees in "odd" years. However, for the chickadees that pattern was shattered this week, when in the first two days alone we banded as many as we ever had in a full week (54), and by the time week 11 was over the total was 139. Overall, the total of 635 birds banded this week was more than one hundred above the previous week 11 high of 530 set in 2008.
Despite it being another record-setting week, the pace felt surprisingly slow at times, which isn't too surprising after three consecutive weeks of 1000+ birds, including 17 days with more than 100 each. We still had another four 100+ days this week, but the busiest of those was 166, which (incredibly) ranks as only the 13th highest daily total of the season. This came on October 14, and included the 30,000th bird banded at MBO. A major storm moved through the next day which prevented us from opening and appears to have moved out a lot of birds too.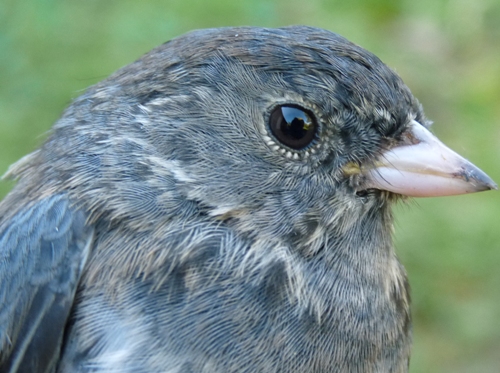 For the second week in a row we had a Slate-colored Junco that appears to be a hybrid. Although not as distinctly marked as last week's apparent White-throated Sparrow hybrid, we suspect that may nonetheless be the parentage of this bird too (click here for additional photos).
(Photo by Marcel Gahbauer)

The odd-looking birds these days aren't just limited to juncos - this Black-capped Chickadee has brown feathers on its wings! In this case we suspect it's a plumage aberration of some sort rather than a matter of hybridization, but a curious pattern in any case; we also have posted additional photos of this bird, highlighting the wings.
(Photo by Marcel Gahbauer)

Again this week we had the luxury of two (sometimes even three) banders on site most days, and that not only helped ensure that birds were processed more quickly, but also provided more opportunities to search the skies (and bushes) for migrants. The 63 species observed this week is slightly above the median of the range of 55 to 68 species seen during week 11 in previous years. Reflecting the fact that we are nearing the end of the season, this week we added only American Tree Sparrow and Red-winged Blackbird to the list of species banded at MBO this fall; the sparrow was also new for the fall in terms of observations, whereas we've seen thousands of blackbirds, but this is the first time one was flying low enough to get caught. The cumulative total of 136 species this fall is now just barely ahead of the average of 135 from previous years.
This week's top 10 [last year's rank for this week in brackets]
| | |
| --- | --- |
| # individuals banded | mean # individuals observed daily |
| 1. Slate-colored Junco (158) [2] | 1. American Robin (430.6) [5] |
| 2. Black-capped Chickadee (139) [9] | 2. Red-winged Blackbird (424.0) [3] |
| 3. Yellow-rumped Warbler (88) [1] | 3. Canada Goose (194.0) [1] |
| 4. American Robin (51) [-] | 4. American Crow (87.6) [4] |
| 5. Hermit Thrush (43) [7] | 5. Slate-colored Junco (70.7) [7] |
| 6. White-throated Sparrow (41) [4] | 6. White-throated Sparrow (56.6) [6] |
| 7. Ruby-crowned Kinglet (32) [3] | 7. Black-capped Chickadee (53.9) [-] |
| 8. Golden-crowned Kinglet (23) [5] | 8. Yellow-rumped Warbler (51.4) [2] |
| 9. Song Sparrow (15) [8] | 9. Common Grackle (33.0) [-] |
| 10. Fox Sparrow (13) [-] | 10. European Starling (26.1) [9] |
After three weeks of absolute domination by Yellow-rumped Warblers, the list of birds banded this week finally has a new species at the top thanks to an early influx of Slate-colored Juncos. In the previous five years, our average count of juncos banded during week 11 was only 33, whereas the 158 this week is second only to the record count in the final week of the 2009 fall season. Even more impressive though was the total of 139 chickadees banded this week, much more than doubling the previous single week record of 54 from way back in week 10 of 2005. This movement came out of nowhere too, with only 6 banded all of last week, but no fewer than 11 banded each day of this week. On the other hand, we did finally see Yellow-rumped Warbler numbers drop significantly, though the 88 banded this week was still good enough for third place (and nearly as many as we had all of last fall). American Robin has in previous years always been in the top two for week 11, so it seemed a bit unusually scarce this week despite the 51 birds banded. Like the chickadee, Hermit Thrush put in its best ever single-week performance, with a total of 43 eclipsing the 37 we banded in week 10 last fall. White-throated Sparrow and the two kinglets were tapering off this week, although the 23 Golden-crowned Kinglets were enough to add that to the ever-growing list of species with record high banding totals this fall. Rounding out the list were the nearly omnipresent Song Sparrow, and Fox Sparrow, also among the species showing up a bit earlier than normal.
While we didn't catch as many American Robins as usual for week 11, they were certainly around in good numbers, taking top spot among species observed, for the fourth time in six years (the other two times numbers were comparable, but eclipsed by even larger flocks of Canada Geese). Red-winged Blackbird and Canada Goose are nearly always the other species rounding out the top three for week 11, and this year was no exception. Even more predictably, American Crow has now managed to hold fourth place six years in a row! Consistent with the banding data, Slate-colored Junco showed up in fifth place for the week, higher than in any previous year at this time. Meanwhile the daily average count of nearly 54 chickadees was a new record for MBO, even if only good for seventh place in another week where MBO was teeming with birds (with the top 10 alone this week accounting for an average of 1428 individuals daily). Ruby-crowned Kinglets and Blue Jays declined in abundance from last week, being replaced in this week's list by the chickadee and Common Grackle.
Just two more weeks remain in this record-breaking fall migration season. Although the peak numbers are now certainly behind us, we could still remain very busy right to the end of October if the late migrants have had as productive a breeding season as many of the earlier ones - certainly the number of juncos and chickadees we have observed and banded already suggests that both are potentially on track for record high counts this year too, and there's still a chance we could see some finch movements before the end of fall.
In previous years, this middle week of October seemed to be the peak of Northern Saw-whet Owl migration at MBO, but without full coverage we were never quite sure how many we were missing on nights we weren't out. This year we missed one night due to heavy rain and high winds, and the previous evening also had to shut down early as the rain came in, and didn't manage to catch any owls. However, over the other five nights we banded 39 saw-whets, including a record 18 on Thanksgiving. To put this into context, our season totals during our first three years ranged between 15 and 17! On our big night we had only one round of net checks without any owls, and conditions seemed perfect for migration (cool, calm, and dark). In addition to the 18 banded that night, we also had our second foreign recapture of the season, a hatch-year saw-whet banded less than two weeks earlier at Hilliardton Marsh in northern Ontario, roughly 500 km northwest of MBO. The 74 saw-whets banded at MBO so far this fall is just two short of the high count set last year, so we're sure to break that record in week 12 (equivalent to week 4 of the owling season).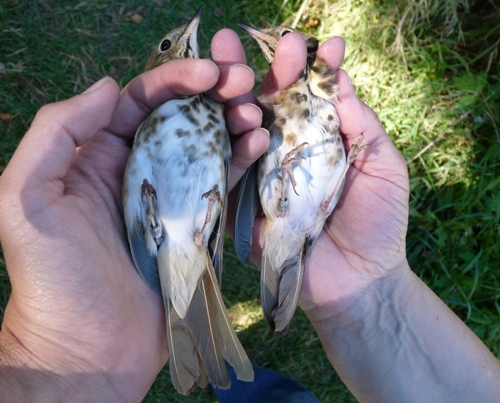 Another identification puzzle for us this week was the thrush at left in the photo above. In every aspect of its plumage it looked like a normal Hermit Thrush ... it's just that it was giant compared to the many others we have been banding, of which the one on the right is a typical example.
(Photo by Marcel Gahbauer)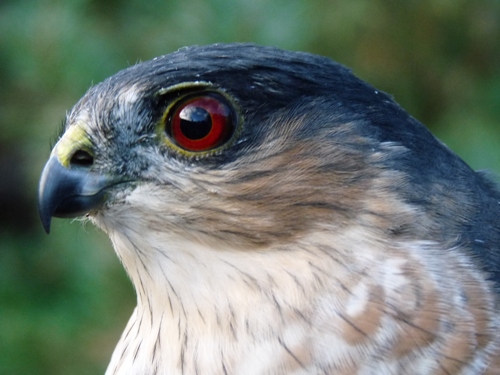 Although the oddities among the juncos, chickadees, and thrushes this week were exciting themselves, the thrill of banding this dashing after-second-year Sharp-shinned Hawk was a special treat, especially since we typically only catch hatch-year raptors.
(Photo by Marcel Gahbauer)